Talking Boards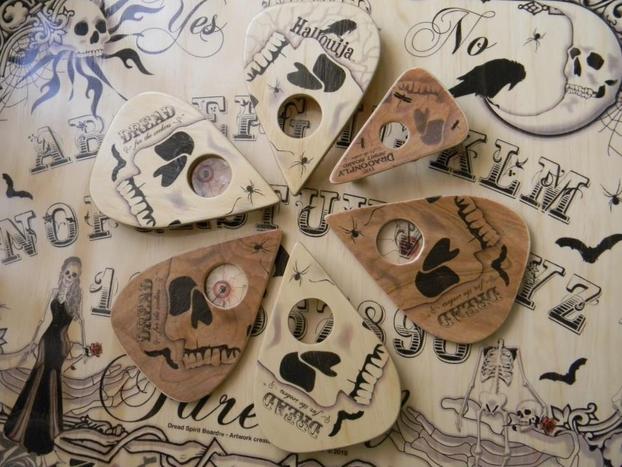 The Dragonfly Spirit Board was the beginning of the ForTheSeekers talking boards. Although the design was created in 2008, it took almost a full year to perfect the method of getting the design on the board. The first ForTheSeekers spirit board was sold on eBay in early 2009. Over a short five years, a few more board designs and a few hundred boards have been created and shipped all over the world.

Below is a gallery of just a few talking boards by ForTheSeekers.

---
le Chat Noir Ossements™


le Chat Noir Ossements - meaning "the black cat bones" - is a direct parody of the original 1896 advertisement for a tour to other cities ("coming soon") of the Le Chat Noir's troop of cabaret entertainers created by French artist Théophile Steinlen. My print is very similar but the actual talking board behind the poster is of the bones of the black cat in a cosmic setting and has a pendulum area on the board.
ForTheSeekers is proud to have "le Chat Noir Ossements
™
Talking with the Dead Board" displayed in the
Museum of Talking Boards
.
---
DREAD Talking Board

™




Fear not this dreadful scene...

"DREAD" was the second talking board design by ForTheSeekers created in 2009. The planchette, a skull with a blood shot eye. The skull planchette design is also often used with the "Hallouija" talking boards.

---
Dragonfly Spirit Board

™

Dragonflies are fascinating little creatures, almost cosmic in nature, and their symbolism has a role in many cultures around the world.

Some Native Americans believe that dragonflies are the souls of the dead. They are symbols of change, communication from the elemental world and messages of enlightenment and wisdom making the dragonfly a fitting theme for this spirit board.


---
Hallouija

™

Witch at the gate, magic ball in hand. Her familiars, black cats, roam this dark land.
House on the hill with a caretaker in sight, battening down for a frightful fall night.
Bats fill the sky, fluttering with ease, while spiders slink down filling the trees.
Cemetery so quiet you can't hear a sound, but the bones down below rattle the ground.
Ravens are lurking and ghosts float about. This "Hallouija" spirit board calls the spooks out...


-

JenKast
---
eVerAfter

™

The eVerAfter talking board artwork is of a far away magical place where anything can happen. Speak to the afterlife with a tool that feels lighter than the typical talking boards available.

The board doesn't have to be dark to work. Many angel boards work the same as talking boards but are regarded as harmless. Go figure.

Frogs, faeries and floating fish....

---
Pendulum Boards
&
Wooden Projects

Pendulum boards, card reading boards, runes, signs and other wooden projects by ForTheSeekers.
---
| | | |
| --- | --- | --- |
| | Because each talking board takes a considerable amount of time to complete, they are very limited. The lucky souls who acquire a ~ for the seekers ~ talking board proudly display them with love and use them as functional handmade art. | |
---
- Useful Links -

---